Passion, and sacrifice to create something new brings joy. MATE RIMAC – inventor of the fastest electric car and CEO at the Rimac Company (Croatia). 
Mate was born in 1988. in Livno as the oldest of three children. He lived with his family in Germany until 2000 when they moved to Samobor. Back in Croatia, his parents founded a family construction company. Mate started inventing when he was young. Even nowadays he claims that ''I was an average student''. During high school he created the e-glove and won the electronic national competition prize. Inspired by Nikola Tesla, he wanted to make not only environment friendly economy cars but also fun and ever faster car. When he was younger he used to repair his racing BMW car in his garage and replace the engine with an electric engine that he invented. After every race, there were some problems with the car. He went back to his garage and came out with engine improvements. Each time the car was better and better. In 2010. he won the car race competition and won public attention. At the same time, Tesla motors were launching the Roadster known as the fastest electric car. 

Rimac has shown that his old racing car with invented electric motor was faster than the Roadster. Despite his success and appreciation, his ultimate goal was to make his own car. At that time there were no start-ups in the car production eld. Inspired by two people who started their car company from nothing – Horacio Pagani (Italy) and Christian von Koenigsegg (Sweden), he learned from their examples. We can hardly imagine how difficult it was back in 2009 to start an auto company from scratch in Croatia (a small country with no tradition in car industry, with a population of 4,3 million, and with no Venture Capital Funds).
Without capital or an impressive CV, he engaged six people to work with him. He lived and worked on the company premises. In 2011 the electric car Prototype 1 was shown at the Frankfurt auto show. With no capital of their own, they became a company which produced car parts for other companies.

The car is a complex product and complex technology is needed to produce an electric car. Rimac has decided to produce most car parts on his own because he lacked capital but also due to lack of existing technology. The newest "Rimac Concept Two EV shakes the earth at the 95, 96 2018 Geneva Motor Show ''. 
LESSONS LEARNED:
Mate Rimac become a role model and a hero for many young people with innovative minds. He started from scratch. The value he added to electric cars comes from creation, persistence and sacrifice. 
Care for people – In the media he stated ''My passion were cars, but now people come first!''
Strong vision and dealing with challenges – ''Our company is all about raising the bar. In terms of technology, 97 in terms of performance. To make the impossible possible.''
Team identification and celebrating team members – ''The guys did an amazing job.'' He claimed in the lecture he gave at the Leap Conference (2018, Zagreb)
Cooperation vs competition – Rimac company produces battery packs and smart parts for the Koenigsegg company. ''From hero to a friend, from role model to a customer. It's not something you do immediately. You must prove yourself… over the years. It takes years to build an image so that companies trust you.''
Leaders perspective of accident, risk and challenge After Richard Hammond crashed with Concept One, Rimac was faced with not so great media exposure. Hammond got out of his overturned car and the car burned. Rimac claimed that this car crash took 10 years out of his life, but he pointed to another perspective. What were the disaster outcomes? 

World news spread the information about Concept one car crash.
Rimac got media attention, he analyzed the event and explained it using arguments.
Fortunately for the other seven Concept One owners, the value of their cars went up!
In the next generation Concept Two model, he installed one detail – the Croatian futuristic re extinguisher Pastor with the label "In case of hill climb extinguish re. "It was a great marketing slogan. "The world has burned about the Rimac car", but this time not due to the incredible power of the car or its technological performance. One year later Mate Rimac admitted ''There are disasters like that every week. Every week, when you are running a car company. Disasters inside the company that nobody sees. But somehow, we kept going.''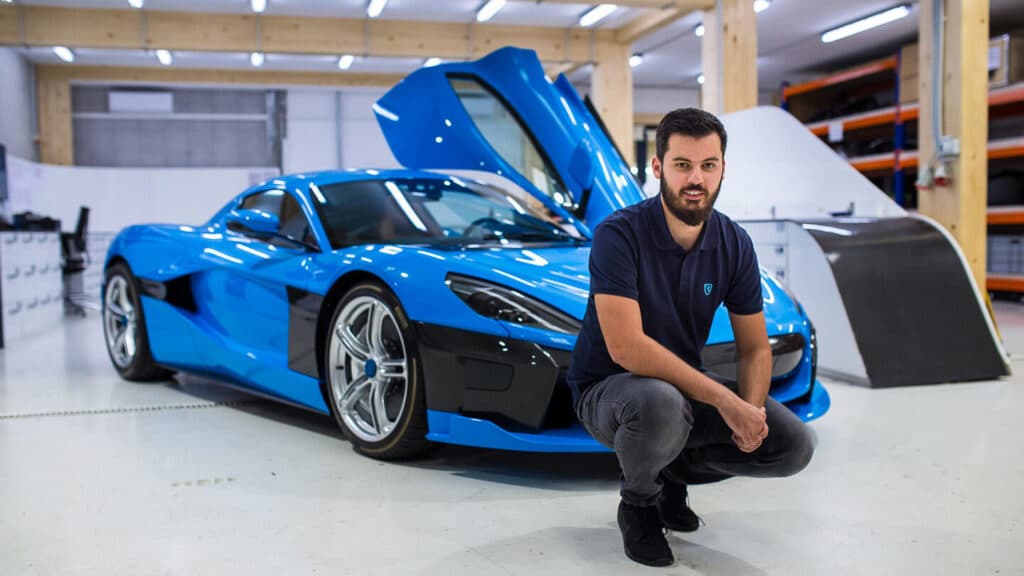 Environment, people andserving attitude: ''You cannot build just your own island. It is important to give back and to do whatever is possible to create a better environment for everybody.''
Rimac's company is producing electric, environmentally friendly cars, and the fastest cars in the world. Out of all cars produced today, only 1% are electric cars. That number will increase over time. With the knowhow and experience, Rimac's team is willing to help others to produce affordable, environmentally friendly cars. The Rimac company is also known for producing top electric bicycles.
Care for powerless people – empower the spirit to become stronger than life's troubles! Rimac provided help for a young and disabled Roland Bugnar who has a history of progressive muscular dystrophy and has spent his life in a wheelchair. The Rimac company made a unique wheelchair battery that allowed him to move smoothly uphill. They helped him to try out the sports grounds, to ease the overwhelming hilly terrain he lived in, and they brought him independence and freedom, what many immobile people dream of.
Personal values expressed in a gentle manner using informational power – Mate Rimac wrote on Facebook about meat eating: "This is a topic that annoys many people and polemics are taking place. I do not want to impose my attitudes, but I like to put some facts to encourage thinking he explains: ''I've stopped eating meat primarily because of the numbers (150 billion animals a year, harmful gas emissions, 18 x less land surface, 1 burger 3000 liters of water = 2 months of showering)  and I think it is one of the best things I did. I invite you to look at the facts and make your decision.'' 
Join our free Joyful Leadership online course today! Start here.
SOURCES:
Joyful Leadership Manual